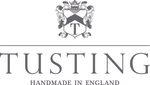 Trends come and go, but leather has a timeless charm. Tusting sets the benchmark with its collection of quality leather bags, designed and made in Britain. From briefcases to designer backpacks, Tusting bags are renowned worldwide for their enduring qualities and elegant styling.
For over 130 years, Tusting's leatherworkers have been creating working with the finest hides and materials. Established in 1875, today they produce premium bags that contain the essence of traditional British craftsmanship, modernised to meet the needs of the digital lifestyle.
Find a luxury leather bag that effortlessly organises your laptop, accessories and personal items in our collection.