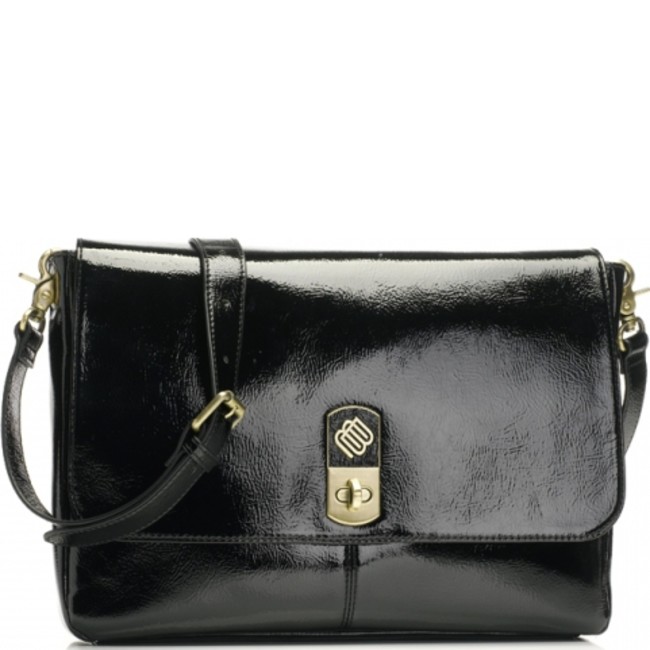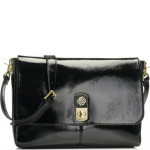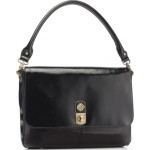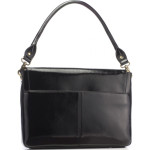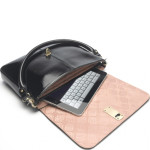 Phoenix is a chic tech bag that discreetly carries your devices. Made from striking black patent, it's a versatile companion for days when you want to slot everything into a handbag.
Store your iPad or 11″ MacBook Air in the cushioned compartment, with organiser pockets for pens, accessories and make up. Keep your iPhone secure in the zipped pocket; this stylish women's bag won't let you down.
---
Features
Ideal for iPads
With a dedicated compartment for your iPad or 11″ MacBook Air, this handbag is made to protect your tech.
Elegant Appearance
Made from a glossy black patent design; this compact bag is a sophisticated accessory for night or day.
Signature Turnlock and Lining
The front flap secures with a simplistic turnlock, featuring the Marshall Bergman logo. Inside, the bag is fully lined with signature pink fabric.
Multiple Pockets
Organise your pens, make up, money and tickets in the various pockets, including a zipped interior pouch and a discreet slip-pocket to the rear.
Three-Way Carry System
With a shoulder strap and cross-body strap, both removable, this bag can be worn as a handbag, satchel or clutch for any occasion.
Details
Phoenix offers a stylish solution for women who want to keep their technology secure on the go. Fill with your essentials and wear the way that suits you best, for a handbag that goes the distance when out and about with your devices.
Made for an iPad, 11″ MacBook Air, or device of a similar size, the dedicated interior compartment is padded to protect your gadget from bumps and vibrations. Store accessories and small personal items in the organiser slots and internal zipped pocket, with a further slip-pocket on the back of the bag.
Convert into a handbag, clutch or satchel with the removable straps, and close with the turnlock on the front. This handbag is an elegant accessory for your tablet or MacBook Air.

Usage and Care

Phoenix is a sturdy and stylish bag that is designed to meet the challenges of daily life. However, to keep your bag in good condition, avoid exposure to extreme heat, light or humidity. Clean using a soft, damp cloth to remove dirt or marks.

About Marshall Bergman
Marshall Bergman is a London-based brand with a heritage in leatherworking that spans over 100 years. Today, they strive to set the benchmark for tech bags, fusing style, functionality and durability to create accessories that users can rely on when travelling with their gadgets.
Specifications
Exterior Dimensions (WxHxD)

33.0 x 23.1 x 4.1 cm

Material of Construction

Stunning patent material, with a luxurious Marshall Bergman Jaquard Lining

Type of Closure

Bespoke signature turnlock

Dividers

Internal organiser pockets for small items, including secure zipped pocket and 2 pen holders

Protection

Padded Compartments

Accommodates

Holds 11″ Macbook Air or iPad

Carrying/Transport Options

Removable adjustable cross-body length strap or shoulder strap
Reviews